On 6 May Jakarta-based DJ duo Diskoria return with their Suara Disko party — featuring a guest performance from Indonesian pop icon, Fariz RM.
Hosted in our Sunset Park rooftop bar, the event takes place on the weekend of our Merasa Wellness Experience.
Legendary artist Fariz RM is a household name in Indonesia thanks to the colourful city pop songs he released throughout the '80s and '90s. The talented multi-instrumentalist and prolific songwriter produced 21 albums during his long musical career, composing cinematic scores and collaborating with acclaimed local acts and chart-topping supergroups along the way. His music has reached new audiences in recent years, as younger generations discover the timeless sounds, thanks, in no small part, to the crate-digging efforts of DJs like Diskoria.
The energetic scenes from Suara Disko's last appearance here won't be forgotten in a hurry – when an ecstatic crowd grooved into the night as Diskoria lifted spirits with their vintage Indo-disco grooves.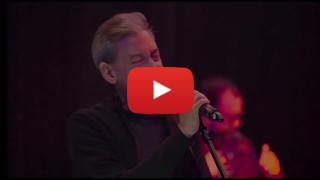 Formed in 2015 by avid vinyl collectors, Merdi and Aat, Diskoria was born out of a desire to bring back the glory days of Indonesian music. After launching the Suara Disko event at Jakarta's H Gourmet & Vibes venue, the project quickly grew a huge following, with their online promotion campaign generating millions of hits within weeks. Their reputation has continued to flourish, and their following now extends far beyond Indonesia thanks to the irresistible energy they bring to their shows.
Set in the open-air setting of our Sunset Park rooftop bar, we're sure this retro-leaning combination will lead to more feel-good oceanside vibrations as they celebrate Indonesia's musical archives.